Training
Becoming a medical specialist requires several years of training. Throughout their career, medical specialists must maintain their skills and update their knowledge.
Academic background
Medical specialist training requires more than 10 years of post-secondary education. They will then have to maintain their skills and update their knowledge throughout their career.
After CEGEP, it takes 4 to 5 years to obtain a doctorate in medicine. The residency then takes 4 to 8 years, at the end of which the future medical specialist must complete a postgraduate internship before being allowed to practice their profession.
Organizational chart - Education and training path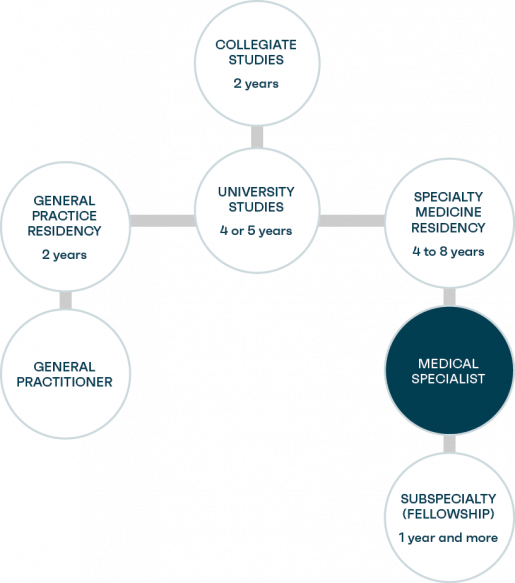 In Quebec, four universities offer medical training:
Continuing Education
As medicine is a constantly evolving science, the medical specialist will need to keep their skills up to date throughout their professional life in order to always provide the best medical care available to their patients. They also have certain obligations: every year, they must carry out continuing professional development (CPD) activities in order to maintain their right to practice.
Continuing professional development activities are aimed at:
The acquisition of knowledge
Their application in practice
Performance improvement
Evaluation of the results obtained
Maintaining skills: an obligation
According to the Quebec Code of Ethics of Physicians, "A physician must practice his profession according to the highest current medical standards; to this end, he must, in particular, develop, perfect and keep his knowledge and skills up to date."
The Règlement sur la formation continue obligatoire des médecins also provides that all physicians registered with the Collège des médecins du Québec must, as active members, participate in a minimum of :
250 hours of continuing education activities per five-year reference period, including:

At least 125 hours of recognized professional development
10 hours of recognized practice evaluation activity


25 hours per year of recognized continuing education activities
To learn more about physicians' obligations in terms of continuing education, consult the explanatory guide published by the Collège des médecins du Québec.
Tools to foster continuing professional development
Interdisciplinary Training Days
The Interdisciplinary Training Days (JFI) is the largest annual event for continuing professional development in specialized medicine in Quebec. Attracting more than 1,000 specialist physicians, the event takes place over two days and includes one day of conferences, workshops and plenary sessions and one day devoted to simulation sessions.
The purpose of the Interdisciplinary Training Days (Journées de formation interdisciplinaire) is to:
Promote exchanges on issues common to several specialties in terms of medical care
Enable the sharing of knowledge and expertise
Contribute to better coordination of care practices in Quebec
Foster the emergence of innovative solutions for the health care system
To show the public how medical specialists can actively contribute to improving the health care system
MEDUSE e-Learning Platform
MEDUSE offers online training modules and resources to all medical specialists who are members of the FMSQ. The training sessions are designed in collaboration with the various medical associations in order to meet the needs of physicians. They are free and accessible at all times, from any digital platform.
Each year, the 35 medical associations affiliated with the FMSQ hold a congress to offer their members more advanced training in their field of expertise. For medical specialists, this is another opportunity to perfect their theoretical and practical knowledge in order to offer optimal patient care.